Born in Kraków in 1947, Krzysztof Skórczewski attended the Kraków Academy of Fine Arts from 1965 to 1971, where he obtained his diploma at the Print Department.

Initially involved in linotype and applied prints, Skórczewski became interested in copperplate print while studying at the Royal Swedish Academy of Arts in Stockholm in 1976. From then on, and for 30 years he has built a vast collection of over 170 copper etchings grouped into cycles. In the mid-1990s, the artist took to other painting techniques, and continues to make series of pastels and watercolours.

In his works, the artist returns to the subjects that fascinates him,namely, architecture, cityscape, the flora and fauna to build a succession of visions brimming with imagination and mystery.

In Kraków, Krzysztof Skórczewski and his wife run together a printmaking studio with a printing press: this is where all his prints are made.

His work have been shown in at least fifty individual and over two hundred group exhibitions.

Among the prizes he received, there isthe First Prize at the Premio Leonardo Sciascia (Milan, 2008), the First Prize at the Festival International de la Gravure in Menton (International Print Art Festival, France, 1989), the Second Prize at the International Print Biennial (Kraków, 1972) the Albertina Society Award (Vienna, 1972).
Skórczewski's works are found in many art collections of great renown.
From those in his native city of Kraków and Poland (Museum of Copper in Legnica is in possession of a complete collection of his prints), via the Museum of Art and History in Freiburg, Print Room in Geneva, Kunsthalle in Bremen, to New York's Museum of Modern Art and the National Gallery of Art in Washington.

Krzysztof is also involved in teaching and civic work. He has been a professor for the European Academy of Arts in Warsaw and has cooperated with the State University of Utah. Today, he is teaching at Rzeszów University, and is chief of the Print Department of the University's Institute of Fine Arts. He is also famous for his involvement in Polish charity actions.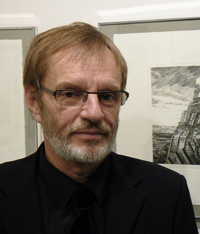 KRZYSZTOF SKÓRCZEWSKI